Top 6 High-ROI Smart Tech Upgrades for Your Home
Posted by Alicia Smith on Monday, March 7, 2022 at 8:59 AM
By Alicia Smith / March 7, 2022
Comment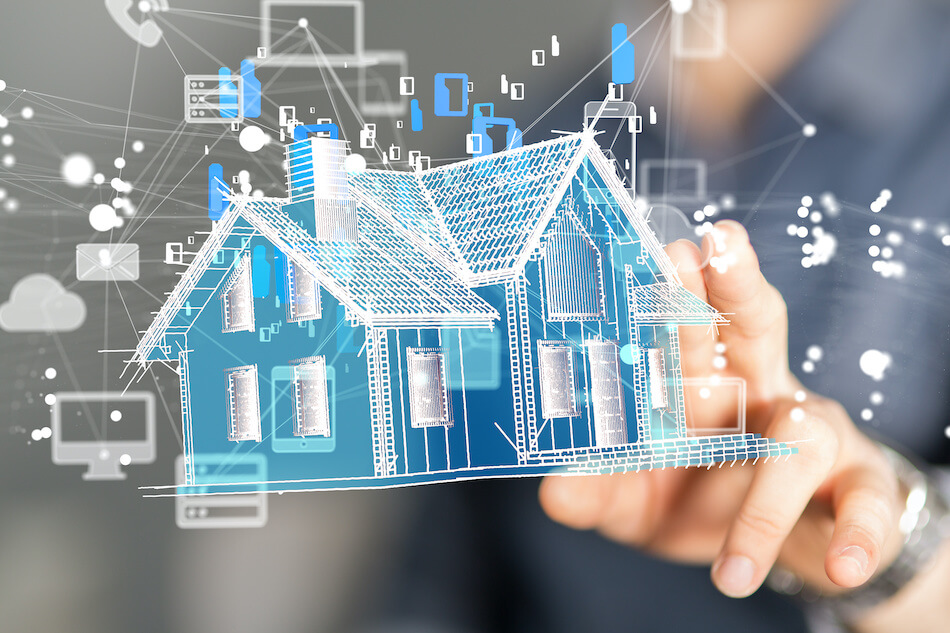 Homeowners have many choices when it comes to making improvements to their homes. Some upgrades add value, but not all improvements pay off. The good news is that smart tech upgrades are in high demand and almost always have a strong return on investment (ROI). People considering adding smart technology almost always find these devices deliver a fantastic ROI. When choosing which smart tech upgrades to install, homeowners should consider convenience, efficiency, and value. Keep reading to learn about the best high-ROI smart tech upgrades for your home.
Smart Thermostats Set Money-Saving Temperatures
Smart thermostats have grown to become pretty standard in modern homes, especially now that sustainability is driving the luxury market. Designed with energy efficiency in mind, homeowners gain total control over their heat and air conditioning usage through an app on their phone or with their voices in conjunction with an interactive voice assistant (e.g., Alexa). The latter costs a little more than a standard smart thermostat but offers the ultimate convenience. The best part about this type of upgrade? Prices on smart thermostats have drastically fallen in price, and homeowners can expect to enjoy 100% ROI on this easy-to-install investment.
Smart Security Features Stop Property Losses
According to the FBI, victims of burglary offenses in 2019 suffered approximately $3 billion in property losses, averaging more than $2,600 per home. To protect their families and homes, people are no longer looking at ordinary locks, beware of dog signs, or setting up alarm company signs in their yards—they're getting serious about security. Products they're investing in that yield a good ROI, mainly due to price decreases, include smart cameras, locks, and doorbells.
These devices empower homeowners to protect their homes and quickly identify potential burglars through live feeds and recorded footage, along with the ability to speak to people who approach their doorways (even if they aren't home and watching the feed with their phones from afar). Many insurance companies offer premium reductions to homeowners who bolster home security as a bonus.
Smart Appliances Pay Off in the Kitchen
A full kitchen renovation is nice but is costly and doesn't deliver the best ROI. Minor kitchen remodels, however, do offer a strong ROI and smart kitchen appliances are the perfect addition for homeowners looking for a strong return. Smart appliances easily beat out conventional models since they are one of the best energy-efficient home upgrades. Appliances yielding the best ROI include ovens/ranges, dishwashers, built-in microwaves, refrigerators, washers, dryers, and standalone freezers. Smart kitchen appliances offer both convenience and energy efficiency, and minor kitchen remodels, including new ones, deliver an 81% ROI.
Smart Smoke and Carbon Detectors Save Money & Lives
Designed to alert people and save lives, smart smoke and carbon monoxide detectors are highly sensitive when identifying potential hazards. The newest devices can detect killer gas or smoke in seconds and trigger alarms. Homeowners are alerted through apps, empowering them to send for help, especially if people are home sleeping, trapped, or injured, and unable to get out. Furthermore, these smart devices can also shave roughly 5% off annual homeowners' insurance premiums. Costing about $100, this upgrade quickly brings homeowners a decent ROI.
Smart Lighting Illuminates Savings
Energy efficiency and green living go hand in hand, which is what makes smart lighting so attractive. Converting traditional lighting to smart LED bulbs is a worthwhile investment because they're reliable, attractive, comfortable, and convenient since an app or voice can control them. This means no more wasteful usage; the ability to turn lights on from afar means they can double as a security feature. Green America reports LED bulbs last 25 to 35 times longer than incandescent bulbs and two to five times longer than CFLs.
Smart Shades Shades Improve Sleep & Utility Costs
Smart shades seriously increase the coolness factor in any home. Homeowners, like other smart devices, can control their shades to open or close with the use of an app or voice command, offering the ultimate in convenience when rising or retiring for the day. If looking to spend a little more to add even more energy efficiency into the mix, look into solar-powered automated blinds. Not only do smart shades offer a good ROI, but they also come with other benefits too.
Choose The Best Smart Tech Upgrades for Max Returns
Homeowners seeking to implement high-ROI house upgrades can't go wrong with smart tech. They're great features to enjoy while living in the home, not to mention they add value and are a solid selling point when it comes time to sell.