Luxury Camas Homes For Sale
Search Camas, WA Luxury Real Estate
Start searching luxury homes for sale in Camas WA. If you would like more information on any of the Camas luxury home listings you see below, just click the "Request More Information" button when viewing the details of that property. We can provide you with disclosures, past sales history, dates and prices of similar luxury homes recently sold nearby, and more.
And, if you haven't already, be sure to register for a free account so that you can receive email alerts whenever new luxury home listings in Camas come on the market. Also contact us for more information about Camas luxury homes for sale or to schedule a home tour at your earliest convenience. Read on below the listings for more information on Camas.
Search Camas Luxury Homes For Sale
December 6, 2023
More on Camas Washington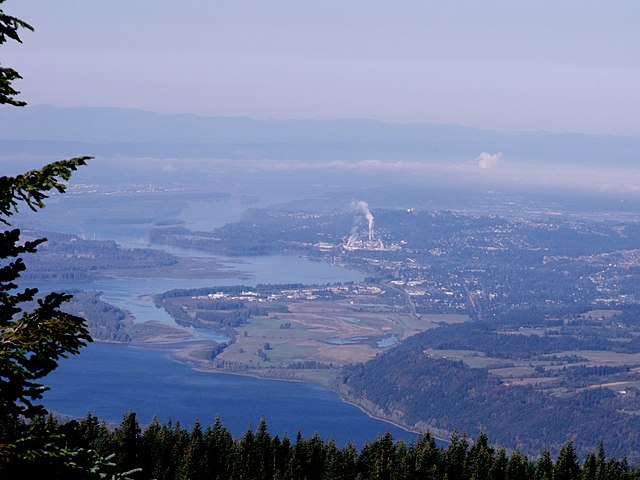 Camas Washington is located right across the Columbia River off of Interstate 205 in Clark County and home to about 22,000 residents. It borders the city of Washougal and Vancouver along the Washington side of the Columbia River across from Troutdale. However, it still part of the Portland metro area and was incorporated in 1906 named after the Camas Lily, a beautiful onion-like bulb prized by Native Americans. Nestled about 20 miles east of Portland, the commercial base of the city was almost solely the paper mill first established back in 1883. However, the diversity of industries has been enhanced considerably over the years with larger, high-tech companies including Hewlett-Packard, Sharp Microelectronics, Linear Technology, and Underwriters Labs.
The downtown Camas area is well preserved and is known for its attractive tree-lined streets and thriving locally-owned economy. While it's a small community, it offers a few shopping and social gathering spots, restaurants, and boutiques. As Portland expanded, most folks decided to do most of their shopping away from Camas so, in 1966, a few residents representing the downtown business area came up with a plan called Operation 4-Sight. This idea was to designate a few blocks of downtown where a concentration of improvements could be made that would keep a lot of the shopping and the shoppers in town. It was designed to make it more pedestrian-friendly, offered a variety of parking, made a pleasant and welcoming environment with natural trees and foliage, and conveniently placed benches so people would stay in town, socialize, and of course, keep their money in town. This led to the downtown's charming look and functional design. Its village-like appeal keeps commerce flowing as well as friendly interaction among its citizens.
Things to Do in Camas
Whether you're considering a move to Camas, spending a day in Camas, or been a native for years and just want to know more, a day in the life of Camas Washington of course has to start with coffee. There's a few great shops such as Squeeze & Grind, Café Piccolo, or Cafe Happy, a beautiful bakery serving custom-made pastries and cakes and delicious coffee from Mount Hood Roasters.
Explore the charming downtown area with all those fantastic shops that kept people in town. It offers a blend of styles from the town's history back to the 1900s as well as home goods, eclectic consignment shops, upscale boutiques and historic theater. Grab lunch at one of the many fantastic restaurants in town such as Hana Foods, Camas Thai, or Cafe Natalia, a staple in town. This fantastic breakfast spot offers American Russian comfort food every day. Check out Hammond Kitchen & Craft Bar for delicious craft cocktails, patio dining, and fabulous stakes. For a great date night, meeting the guys, or girls night out, you can't go wrong at the Hammond.
Feast@316 is definitely one of our favorites., This weird and eclectic location offers great cocktails, state, and salads with delicious bourbon, colossal curried onion rings, baked brie, and fried chicken brioche. You can't go wrong with a lunch or dinner at Feast.
But that's just a few restaurants. There's plenty more right downtown, heading out of town near fishers Landing, or write down on the water such as puffin café, a dockside venue for tropical cuisine.
For those that prefer wining and dining, check out some of the great breweries such as Doomsday Brewing Company, Grains of Wrath, A Beer at a Time, Caps N' Taps, and Salud! Wine Bar, Event Center and Wine Storage, a unique place to sit down, uncork, and unwind with a fantastic charcuterie or cheese platter, fondue, and more.
Fabulous shopping and dining is not the only great thing about Camas. You can spend time outdoors at the Lacamas Lake Regional Park, a 300 acre plus forested reserve just north of downtown. There are over 6 miles of paved and unpaved trails winding through the forest with old-growth trees, playgrounds, picnic tables, and places to fish.
Camas Schools
Camas has its own Camas school district, which serves a total of 6900 students and is rated #9 out of over 200 Washington districts rated by School Digger.com. There are three high schools, three middle schools, and six elementary schools. Each are zoned for different areas of the city.
"Excellent. Camas keeps kids accountable and prepares them for their launch into adulthood."

"My son, niece, and nephew all go to Woodburn and we've had a great experience. The teachers have all been very attentive and make a great effort to make our kids feel seen even during the pandemic and virtual learning. I expressed concern to son's teacher about his struggles with virtual school and she immediately started doing 2 one-on-one sessions with him each week. When we were dealing with a death in the family, the staff rallied to make sure we were taken care of. I can't say enough good things about the staff & teachers at this school." - GreatSchools.org
Camas Homes for Sale
Camas has been touted as the #1 Best Place To live in Clark County Washington. It offers a median home value of about $440,000 and 78% of residents own their own homes. However, it also has a fairly affordable rent at just $1236 for the median rent for the area. With top-rated schools, an excellent downtown area, a beautiful small-town feel, and a variety of homes, Camas make an ideal place to call home plus, you're just minutes from downtown Portland or Vancouver for larger shops and restaurants, yet nestled on the beautiful Columbia River with gorgeous views of the surrounding typography, mountains, and water.
You'll find a variety of homes both brand-new and existing, lakefront homes along Lacamas Lake and homes farther up into the hillside as well as downtown condominiums around $400,000. Many homes feature stunning views as a typography and landscape of Camas rises up towards the mountains offering stunning views of the Columbia River and Valley area. Homes typically range from about $220,000 to $1.4 million on average.
For more information on homes for sale in Camas Washington, browse active listings above or simply contact my office at any time to schedule a showing. I think you love the Camas area and would love to show you more.
Contact Matin Real Estate Group
Image By Sarah McDevitt - View of Columbia River, Camas Washington, CC BY 2.0, https://commons.wikimedia.org/w/index.php?curid=60747741